The Stop Taser Torture blog is the official blog that coordinates the annual December 4th event called, "Stop Taser Torture, blogging for Justice."
Many police departments are using tasers to torture even nonviolent people who are often those who are

incoherent, hallucinating, wheelchair bound,

suicidal, unarmed, deaf, handcuffed, blind, pregnant, students,

or just didnt move fast enough for an officers liking. Taser torture in America is continuously growing not only in volume, but in the level of how liberally, unwarrantedly, and excessively tasering is being used across the U.S and many other countries. In America, some police departments are even now torturing 10 year old children.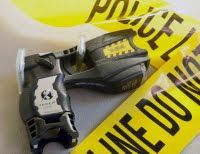 Join Stop Taser Torture on 12.4.09
Join Stop Taser Torture on 12.4.09

Wednesday, November 18, 2009